Dear Colleagues,
It is our great pleasure to welcome you to The American Virtual Myeloma Conference (AVMC2022) which will take place Tuesday, September 20, 2022.
This meeting aims to provide an educational summary of the latest standard of care and clinical trial options for the management of multiple myeloma.
We will bring together international leaders in the field of Myeloma to deliver talks that are idea-focused, from the basic science underpinnings to the present and future diagnostics and therapeutics.
The Conference will focus on the following key areas:
Newly Diagnosed and Relapsed and Refractory Multiple Myeloma

T cell redirection therapy

Cellular and immune therapies
This Conference will welcome oncology professionals, hematology specialists, treatment experts and other healthcare professionals.
Join us as a Sponsor and benefit from maximum visibility and exposure to a broader audience.
We look forward to meeting you online at The American Virtual Myeloma Conference (AVMC2022).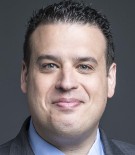 Dr. Joshua Richter
Conference Chair